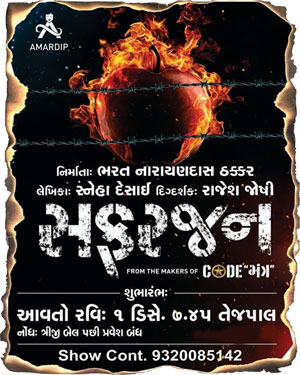 Sneha Desai
is a prominent writer in contemporary Gujarati theatre. Once again, for her new play
SAFARJAN
, she has tied up with her old collaborator-producer
Bharat Thakkar
. The two have previously staged various well-known plays such as
CODE MANTRA
,
KA KANJI NO KA
,
THODU LOGIC THODU MAGIC
,
VAARAS
and others.
Sneha Desai
says: "Although the play was written months before the abrogation of Articles 370 and 35 A, there was never a better time to highlight the utter futility of violence that has destroyed generations of youth in Kashmir. SAFARJAN can be seen as a sweet/sour ripening metaphor of the youth in Kashmir and how for decades they have been caught in the crossfire of two warring nations and ideologies."
About her writing,
Sneha Desai
adds: " Writing for me is a magical tool that teaches me a little more about the craft every time I attempt it. Every play of mine, along with the numerous others I watch, teaches me of how I can do better and more importantly, what not to do...At times I feel I know the pulse of what is needed. At the same time I try very hard to retain the innocence, so that commercial and popular elements do not subconsciously dictate what I write and how I write it. But yes, the writing has evolved, has become more layered and structured and has also been defiant of formulas."
Sneha Desai's
plays do offer a counterpoint to the more dominant scenario of the "social", "comedy", "family" entertainers in Gujarati theatre.
SAFARJAN
opens on
1st December 2019
at
Tejpal Auditorium*Mumbai Theatre Guide takes no responsibility for change in schedule.