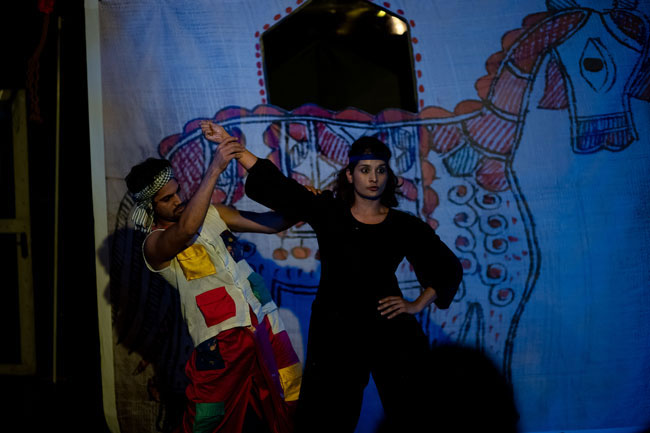 A still from ROMEO RAVIDAS AND JULIET DEVI
In a very disturbing event around Independence Day, backstage theatre artiste,
Yash Khan
, who travelled to Pune with his team for shows of
ROMEO RAVIDAS AND JULIET DEVI
, was rudely awakened at night in his hotel room in Chinchwad. From various reports and conversations with
Sharmistha Saha
, the director, and one of the co-writers of the play, it was random, arbitrary questioning and search by the Pune police without any justification. In our constitutional parlance, this would amount to an attack on our fundamental right of protection of life and liberty as envisaged by Article 21, and whose ambit stands expanded to protection of privacy after the landmark Puttaswamy Judgment in 2017. The police claim their actions as a "routine exercise" ahead of Independence Day.
Sharmistha Saha
says she fears what may have happened to
Yash Khan
had the entire theatre group not been staying at the same hotel. The men were in one room and the women in another. Clearly, they had come to question Yash, given his full name. They were accompanied by a staffer of the hotel, who said he had shown the guest register as demanded by the police. Bags and items were searched apart from the questioning and all this happened without any warrant.
Yash Khan
, whose mother is Hindu and father Muslim, is originally from Delhi. Needless to say, the incident has left his family and him worried and shaken. This should indeed be worrying for all of us who count ourselves as conscientious citizens and artists of our multicultural, pluralistic heritage.
Noted critic and writer
Jayant Pawar
, aggrieved by this event, and by
another concerning Abhishek Majumdar's play TATHAGAT
has written an
open letter
to well-known thespians and the literati seeking their response to both these incidents. He has received responses mainly from Marathi theatre veterans
Premanand
Gajvi
,
Rajeev Naik
,
Shafaat Khan
, and from academics like
Dr.
Bhalchandra Mungekar
, among others, as well as from places like Satara, Jalna and Nashik in Maharashtra.
*Mumbai Theatre Guide takes no responsibility for change in schedule.