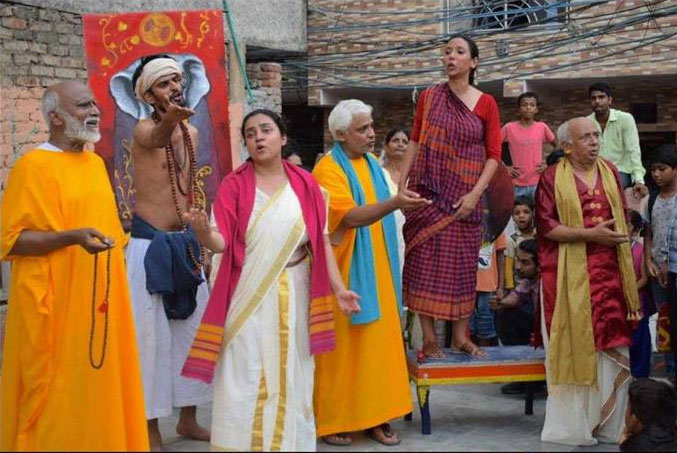 A still from TATHAGAT
Surveillance in theatre by the State is not a new thing. It existed even before India was a nation state when the British ruled. Surveillance and censorship have also gone hand in hand in our theatre.
So what is different now?
As some recent events suggest, there is an unprecedented level of surveillance and clampdown on voices that do not fit the dominant narratives today. Both dialogue and dissent on stage and off stage are being threatened. There is also palpable fear as non-state actors who take the form of mobs are able to get away with impunity for their destructive actions.
There are a number of plays in our history that have experienced the ire of the mob and mobs have killed too. Perhaps no other group in our theatre history knows this better than the famous Delhi-based street theatre group
Jana Natya Manch
(JANAM)
.
The group was in Mumbai recently for shows of their play
TATHAGAT
, written and directed by
Abhishek Majumdar
. At their last show at
Harkat Studios
in Versova, policemen in plain clothes were present and they made their presence very, very obvious. According to
Subodh More
, the facilitator for the Mumbai shows, their presence was definitely awkward as two of these men stood like sentinels near the door, looming over the small set-up. Earlier before the show,
Sudhanva Deshpande
, one of the core members of
JANAM
, was questioned as well.
Questions posed by us to
Karan Talwar
of
Harkat Studios
concerning this incident remain unanswered, but
Sudhanva Deshpande
of
JANAM
, no stranger to such tactics, was forthcoming in his response.
Earlier in February this year, writer-director
Abhishek Majumdar
and his team were targeted at the
Jawahar Kala Kendra
in Jaipur for their play
EIDGAAH KE JINNAT,
which is based on the crisis in Kashmir. Was
TATHAGAT
surveilled because of
Abhishek Majumdar
who was also present at the show at
Harkat Studios
? Was it because it was
JANAM
staging the show? Was it because of the play's content? Or was it a combination of all three? This could be anybody's guess; the bottomline being that increasingly you will be watched for the stands you take and the art you make.
Noted critic and writer
Jayant Pawar
, aggrieved by this event, and by
another equally disturbing one concerning theatre artiste Yash Khan
has written an
open letter
to well-known thespians and the literati seeking their response to both these incidents. He has received responses mainly from Marathi theatre veterans
Premanand
Gajvi
,
Rajeev Naik
,
Shafaat Khan
, and from academics like
Dr.
Bhalchandra Mungekar
, among others, as well as from places like Satara, Jalna and Nashik in Maharashtra.
*Mumbai Theatre Guide takes no responsibility for change in schedule.