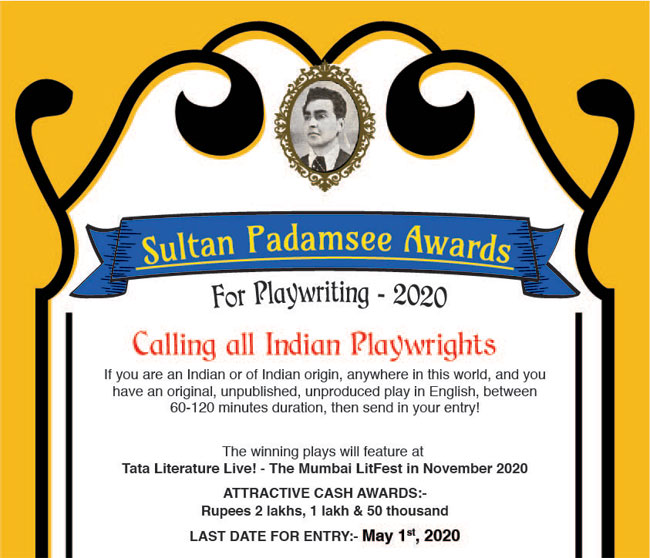 Ayesha Sayani, who coordinates the Sultan Padamsee Awards, writes, "Dear Playwrights and Would-Be-Playwrights! Hope you are using your time in quarantine well and polishing up your scripts! Only a month and a half left to the last date for submissions! Stop binge watching and start binge writing!!!!"
The call for entries for the Sultan Padamsee Awards for playwriting has gone out and the deadline is May 1 (See attached details).
Sultan Padamsee founded the Theatre Group (TG) in 1941 with his first production,
Macbeth
, and by 1944, Derrick Jefferies, Jean Bhownagary, Adi Marzban joined in and gave Mumbai productions like
Othello
and
Salome
. His legacy was carried forward by Ebrahim Alkazi, Hamid Sayani and Alyque Padamsee. Later other legends like Pearl Padamsee, Gerson da Cunha, Vijay Crishna and Sabira Merchant committed themselves to the TG goal of delivering quality theatre. For more than five decades TG dominated the Indian English theatre scene with landmark productions. Tragically Bobby passed away in 1946. The Sultan Padamsee Award for Playwriting was instituted in his memory in 1966. Among the prominent winners have been Gurcharan Das with
Larins Saheb
, Geive Patel with
Princes
, Dina Mehta with
The Myth Makers
and Cyrus Mistry with
Doongaji House.
After a gap of 14 years, the awards were reinstituted in 2011, and have been a regular feature on the city's culture calendar. Ram Ganesh Kamatham's
Ultimate Kurukshetra
, Faezeh Jalali's
Shikhandi
, Vineet Bhalla's
A Farming Story
, have led to recent productions.
Click here for Rules and Regulations
*Mumbai Theatre Guide takes no responsibility for change in schedule.