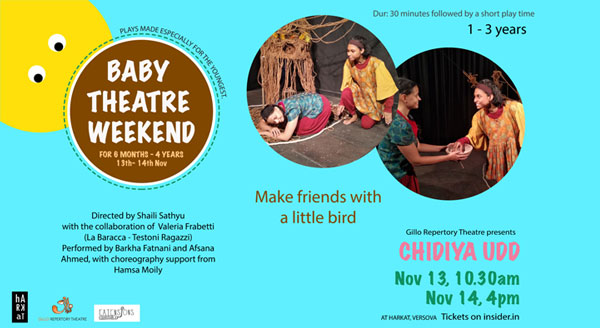 Harkat Studio is reopening with a Covid-safe bang. According to a note from the venue, they are "focusing on the little people who had such difficult lives in the past two years, and to give their exhausted caregivers a little break.
"The last few years have seen exponential development in the field of 'Early Years Theatre' in India. As a celebration of this phenomenal development in our country and to bring some of these pioneering performances to the youngest citizens of Mumbai, Harkat Studios & Extensions Arts are bringing together a 'BABY THEATRE WEEKEND' (November 13 and 14)-- plays made especially for young audiences between 6 months to 4 years."
In this unique festival will be three plays, Gillo Repertory Theatre's CHIDIYA UDD, DREAMSCAPE AT HOME by ThinkArts and CLOWNING by Monica Santos.
*Mumbai Theatre Guide takes no responsibility for change in schedule.