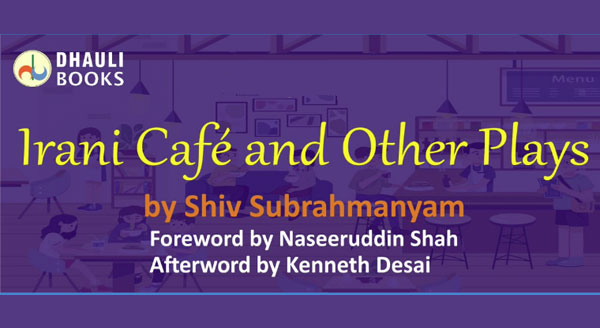 A book of plays by the late Shiv Subrahmanyam was released by Naseeruddin Shah, at Prithvi Theatre, before the commencement of a festival For You, Shiv-- a tribute to the playwright, director and actor, put together by his wife Divya Jagdale.
Vivaan Shah read his father's warm and humorous foreword to Irani Cafe & Other plays, published by Manu Dash of Dhauli books. In the piece, Naseeruddin Shah wrote of the time when a young man observed the rehearsal of WAITING FOR GODOT, silently watching Shah and Benjamin Gilani work on Samuel Beckett's play, for months. His passion for theatre eventually led him to the stage,and Subrahmanyam kept returning to it, after establishing a successful career as a screenwriter and actor.
The event was attended by his friends, colleagues and admirers-- including Saeed Mirza, Sriram Raghavan, Kunal Kapoor, Ratna Pathak Shah, Sonali Kulkarni, Jaimini Pathak (who also co-edited the book with Vivaan Shah), Ratna Pathak Shah, Makrand Deshpande, Sunil Shanbag, Amole Gupte, Denzil Smith, Kenneth Desai, Shishir Sharma, Sadiya Siddiqui and many more.