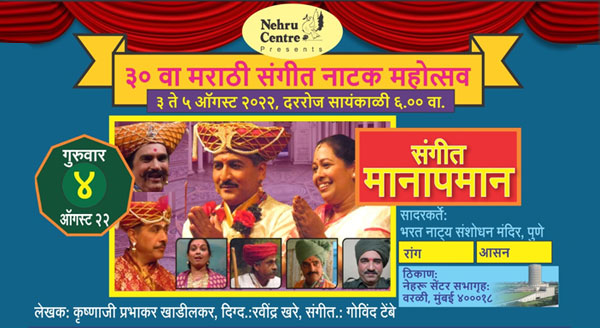 The Nehru Centre in Mumbai organizes an annual festival of Marathi Sangeet Natak. This year is the 30th edition of this festival which will flag off on 3rdAugust and it will have performances of well-known musical dramas like DHADILA RAM TINE KA VANI? (Why did she send Lord Ram to deep jungle?] on 3rd August, SANGEET MANAPMAN on 4th August. The festival will conclude with SANGEET MADANACHIMANJIRI on 5th August. All the three plays are all-time favoritesthat have been receiving consistent patronage.
Sangeet Natak, as the name suggests, is a unique form of drama which combines prose and poetry in the form of songs to narrate the story. In a limited sense, it is quite similar to musicals. The dramatic music is referred to as Natya Sangeet.
The Nehru Centre, established in 1972, has been promoting art, culture and literature. It is not a mute memorial to the memory of India's first prime minister Pandit Nehru, but a living testament and monument of faith in Nehru's vision. The Sangeet Natak festival is free of cost. The patrons have to collect their entry passes from the Nehru Centre. These plays will start at 6 pm everyday.
Out of the three musicals to be staged in this festival, SANGEET MANAPMAN is the oldest and was staged for the first time on 12th March, 1911 in Mumbai's Ripon Theatre. Late Krishnaji Prabhakar Khadilkar had penned this play in the first decade of 20th century when the British ruled India and Indian freedom struggle was peaking. Khadilkar's KEECHAKWADH (Killing of Keechak) was banned by the British owing to its seditious message. Scholars argue that Khadilkar blended themes of OTHELLO and Jane Austen's Pride and Prejudice in his MANAPMAN. As per the prevailing practice on Marathi theatre, female roles were played by the male actors.
The legendary Balgandharva immortalized the role of Bhamini, a proud heiress. Balgardharva could hold audiences in his grip for hours thanks to his singing skills. The audiences would often demand 'encore'.
Compared to MANAPMAN, other two plays are of recent origin. Madanachimanjiri was staged in 1966 whereas DHADILA RAM TINE KA VANI? was staged in 1977. Madanachimanjiri is a typical entertainer in which the songs dominate the main story. The playwright late Vidyadhar Gokhale was a journalist and had edited Loksatta for years. He was inspired by Shakespeare's TWELFTH NIGHT, a romantic comedy.
Prof D G Godase adapted ambitious Sanskrit play DHADILA RAM TINE KA VANI?. It looks at central characters of Ramayana in a new light. The play was originally written in Sanskrit by the poet/playwright Bhasa who lived around 600 years BC. In this play, Kaikeyee has been portrayed differently.
All the three musical dramas are a treat to watch.
*Mumbai Theatre Guide takes no responsibility for change in schedule.