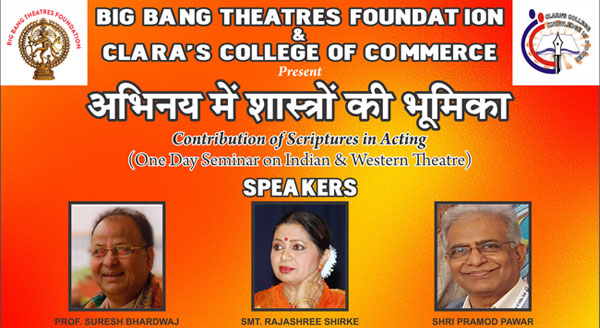 Big Bang Theatres Foundation in association with Clara's College of Commerce is organising a one- day seminar on on the 'Contribution of Scriptures in Acting'.
Natya Shastra by Bharat Muni is considered the oldest book on theatre. Some scholars believe it has not only influenced Indian performing arts, but also western style of thinking. In this seminar there will be a discussion on Natya Shastra as well as a comparative study of Aristotle's writings.
Big Bang Theatres Foundation was established in 2011 by Akashaditya Lama with a vision of promoting indian art and culture through the medium of stage, which he has big been doing successfully for the last 11 years.
The group started with their mega play MOHENJODARO, which was an epic saga that included forms like Thang-ta (Manipuri martial art form) and Chhau (Jharkhand), thus bringing these art forms to mainstream media. At a time when youngsters are completely into western forms, Big Bang introduced thousands of youth to these centuries-old, almost extinct forms.
Big Bang has been doing thought provoking and socially relevent plays (KRISHNA, SHABRI KA MOHAN, SAAKAR HOTA SAPNA) and Seminars every year, where they promote and try to introduce youth to age-old Indian art and culture that has influenced not only films, but even western media.
Clara's College of Commerce is a well-known educational institute of Mumbai which believes that education must reach every level of society and that every individual has a right to education.
The one-day Seminar is in keeping with their mission. The eminent speakers are Prof. Suresh Bhardwaj, who has recently retired as professor of theatre lighting from National School of Drama. He has also served as formar technical director of Rang Mandal, Bharat Bhavan and is the recipient of the prestigious Sangeet Natak Akademi award.
The second speaker is Rajashree Shirke, a true pioneer of a unique teaching and learning programme of indian classical dance. She is also founder director of the Lasya Akademi for Dance Education and Performing Arts. She has received many prestigious awards like the Sangeet Natak Akademi award and the Marathi Sahitya Sangh award for experimental theatre.
The third panelist, Pramod Pawar is a renowned theatre and film personality. He hasp won best actor /best director awards for his work in UTHAVA, KAHUR, STRANGER, ANAMIK, ARJ MOTHA NAMI. He has also received the best actor award for the film Aghat by the Government of Maharashtra, the Sivaji Ganesan award and other notable honours. In the play TILAK ANI AGARKAR, he played the role of Tilak and the title role in ARYA CHANAKYA, for which he won several awards. He has to his credit over six thousand stage performances.
*Mumbai Theatre Guide takes no responsibility for change in schedule.