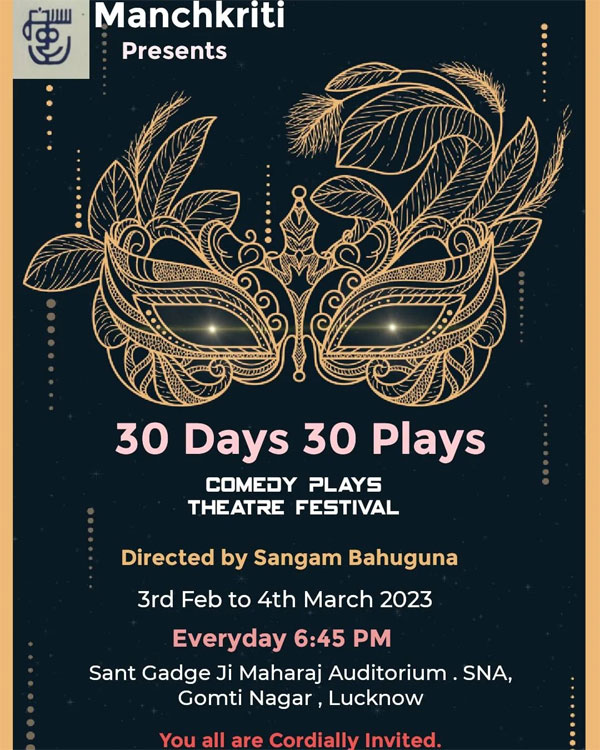 Manchkriti Samiti will present a comedy drama festival from February 3, 2023 March 4, 2023, which is expected to be listed in The Guinness Book Of World Records.
This Festival of original Hindi comedies is being organized by theatre group Manchkriti under the direction of Sangeet Natak Akademi awardee Triveni Sangam Bahuguna. A total of 30 comedy plays will be staged during the 30 days of the Festival, at the Sangeet Natak Akademi's Sant Gadge Auditorium in Gomtinagar, Lucknow.
An elated Bahuguna speaks about organizing about the festival saying, "I got the idea to organize this festival during lockdown. I am directing plays since 1975 and most of them are comedies. But this time my target was to bring this festival into the Guinness World Records."
Click here for Schedule
Manchakriti Samiti institution was established in 1990. With its theatrical performances, the group has carved a niche for itself among theatrical lovers, critics and the media. In its 32 years of Rang Yatra, the Late K. B. Chandra, Daya Prakash Sinha, Dr. Urmil Kumar Thapliyal, Surya Mohan Kul Shrestha, Puneet Asthana, Lalit Singh Pokharia, Shree Alopi Verma, Akhilesh Khannaand staged plays under the direction of Sangam Bahuguna and Gopal Sinha along with theatrical directors like Amitabh Shrivastava, Mridula Sushil and Neelam Gupta.
*Mumbai Theatre Guide takes no responsibility for change in schedule.