Mitr Rangmanch, a multimedia theatre, has organized a 10-day Winter Theatre Festival, curated by Anil Sharma, which will commence from January 22, 2023 in Delhi.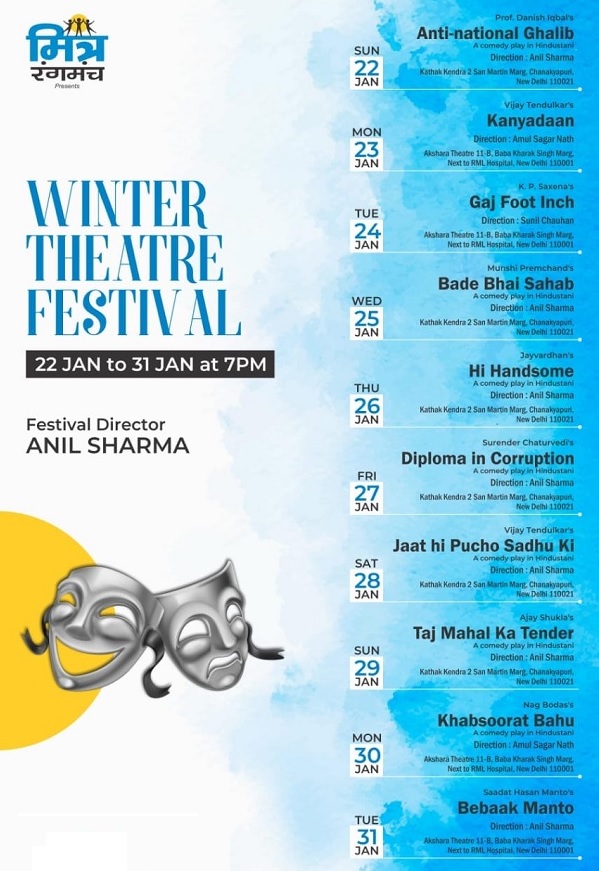 "It's a bit difficult to rehearse seven plays as a director as I try and complete the rehearsals of 2-3 plays a day with multiple artistes along with the crew members of the plays, says Sharma. "But in all of this, each and every artist, along with crew members, finds happiness in the work they are doing to entertain the audience."
Click here for the schedules
He further adds about his excitement saying, "I am definitely very excited waiting for this festival to start and definitely wants audience to witness and enjoy the festival.".
About the Festival:
Anil Sharma is the founder and director of Mitr Rangmanch. He took active participation in plays and dramas since his school and college days and won many accolades. He has conducted many workshops for voice modulation training, improvisation, diction, speech, enacting, etc. at many educational institutions. The popular plays directed and acted so far are IBEEZ KA BETA ISHQ KAR BAITHA, FULL STOP, KHAMOSH TRIPURARI KI BATEIN, OTHELLO, BADI BUAJI, TAJMAHAL KA TENDER, JIS LAHORE NAI DEKHYA O JAMIYA NAI, A PRIVATE AFFAIR, BIG B, FUNTOOSH, etc. TAJMAHAL KA TENDER has been performed more than 60 times in Delhi. He has also worked with many established actors and directors from the world of cinema and theatre, namely Manoj Bajpai, Anubhav Sinha, Ashish Vidyarthi, Hansal Mehta, Ashok Purang, Jyoti Dogra, and Dev Taneja. Anil Sharma was also the former president of the leading theatre group Pieroot's Troupe.
*Mumbai Theatre Guide takes no responsibility for change in schedule.