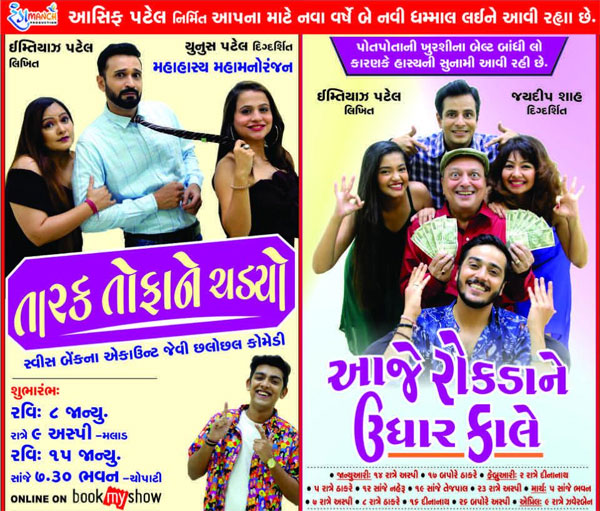 Producer Aasif Patel welcomes 2023 by announcing two new Gujarati comedy plays, TARAK TOFANE CHADYO and AAJE ROKDA NE UDHAR KALE, on his social media site. Both plays were written by the late Imtiaz Patel.
Directed by Yunus Patel, TARAK TOFANE CHADYO is a love triangle of romance, concealment and mistakes, while AAJE ROKDA NE UDHAAR KAALE, directed by Jaydeep Shah, is a fresh comedy of funny misunderstandings and funnier mishaps, promising to leave the audience in splits.
Team MTG spoke with the producer about the characters of the plays, and he says, "I wanted to cast Ojas Rawal, but I was waiting for a good script to fit his (Ojas's) character in AAJE ROKDA NE UDHAR KALE. "Kuldip Goud is a good friend of mine, and we share a great bond." He is also excited to be working with Hemant Jha after eight long years.
He further adds about his favorite genre, saying, "I prefer comedy plays because I want the audience to laugh and leave the auditorium fresh, not tired. Both plays have different topics, but it's a sure-shot comedy, and I am pretty sure that both plays will make the audience laugh."
*Mumbai Theatre Guide takes no responsibility for change in schedule.