'Tifli' is the Persian word for childhood and the TIFLI International Festival of Theatre for Young Audiences is a celebration of childhood through theatre. The festival, in its 3rd edition, presented by Assitej India, is designed to expose children to handpicked international performances as well as present various forms of Indian theatre. For the first time TIFLI brings 6 plays over 3 days to Mumbai! The festival is also being held in Delhi and Hyderabad this year.

Spread over 3 days from 7th to 9th December 2016, TIFLI brings you plays, workshops and master classes, showcasing Indian and international theatre for young audiences.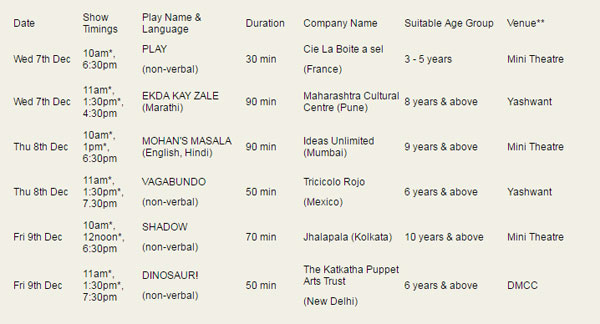 There will be pre-show interaction and post-show interaction for 15-30 minutes. Ancillary Events:1. Workshops for Children
: these 1-2 hour long sessions will have children of different age groups actively engaging with various genres of theatre and theatre skills, facilitated by professionals from India and overseas.
2. Workshops for Teachers
: these workshops guided by thinkers and practitioners of TYA will open up many possibilities to teachers on how theatre can enrich teaching-learning processes.
3. Workshops for TYA Practitioners
: these workshops are designed to share TYA practices of professionals from around India and the world, with their Mumbai counterparts, in order to enrich the pool of theatre for young in the city.
4. Master classes for teachers and/or practitioners
: these sessions will be in-depth workshop and theory sessions by masters of TYA, in their philosophy and practice of working for the young, designed for adults who creatively engage with children.
5. Meet the Artist sessions
: these open-for-all sessions will be organised every day to meet the performing teams. Participants will get to know the behind-the-scenes process of show creation through informal chat-sessions and also get an opportunity to interact with the artists in an open forum.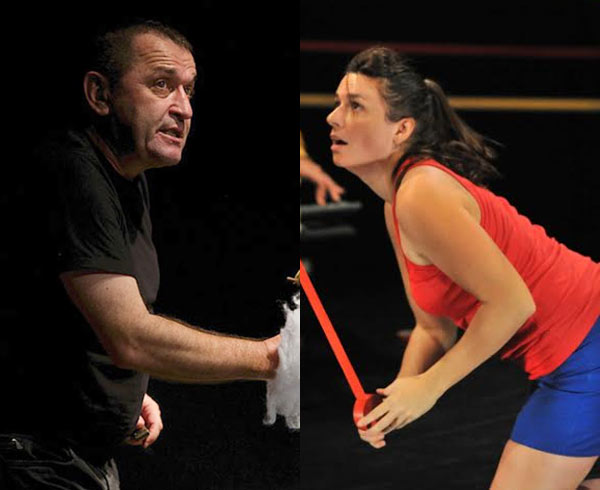 About Assitej INDIA
• Assitej India is a part of an international association of Theatre practitioners for Children and Young Audiences.
• Founded in 1965 globally and in India in 2004.
• Over 84 national centres across the globe.
• Members in India include 40 theatre companies and individual theatre practitioners.
• Hosted India's first ever International TYA conference in 2011.
• Published of India's first Magazine on Theatre for Children with Assitej Germany.
• Hosted India's first International TYA festival "Tifli" in 2014
About TIFLI
• A Theatre Festival designed especially for children and young audiences.
• A mix of international and national performances.
• A common platform for artists, plays and influencers from across the world.
• A festival hosted collaboratively by theatre companies and practitioners from across India.
• TIFLI focuses on morning shows exclusively for schools along with evening shows for family audiences.
• First hosted in 2014 in New Delhi and then in 2015 in New Delhi and Hyderabad.
• TIFLI will be hosted in New Delhi, Hyderabad and Mumbai in 2016Workshop schedule shall be shared with you via email in November.
• International teams that have participated in Tifli 2014 and 2015: Batida Theatre, Denmark; Theatre Handgemenge, Germany; 7-5-1 Group, Iran; Interact Art, Sri Lanka; Helios Theatre, Germany; La Baracca, Italy; Haddangse, South Korea; Bookteller's Quilt, South Korea; Minduella Theatre, South Korea.
TIFLI is co hosted in Mumbai by Kalsootree, Tram Arts Trust, Swangwale, Gillo Repertory Theatre & Theatre Professionals.
Mumbai Theatre Guide takes no responsibility for change in schedule.