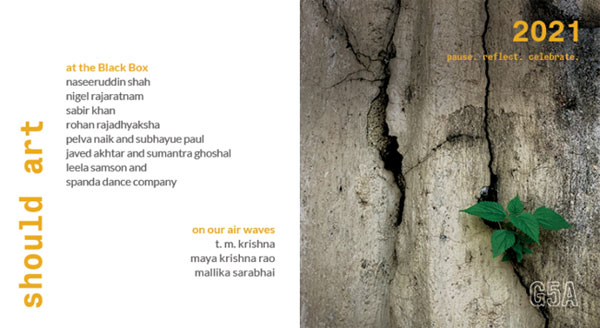 After the lockdown, as cultural venues reopen, G5A starts off with a multi-arts festival.
Says a note from them, "Every year, for the week of November 03, we take a pause to reflect and seed the threads for the year ahead...
This year, from November 3 to 7, we immerse in a week-long celebration with Should Art 2021, G5A's annual festival. We have brought together performances, conversations, and launches at the warehouse, podcasts on the G5A website, and culinary indulgence with a special festival menu at PORT Kitchen & Bar!"
The line-up includes dance, theatre, music, literature, discussions, with names like Naserruddin Shah, TM Krishna, Sabir Khan, Javed Akhtar, Leela Samson, to name just a few.
For details and schedule: http://g5afoundation.org
*Mumbai Theatre Guide takes no responsibility for change in schedule.