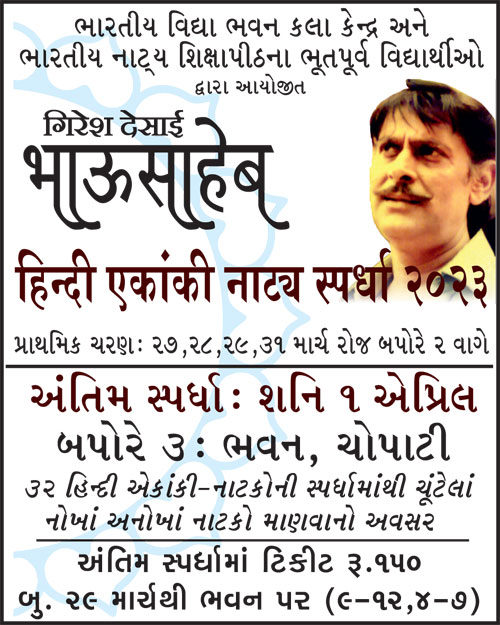 Thirty-two One Act Hindi Plays are participating in the Bhavans Bhausaheb Hindi Ekanki Natya Spardha 2023. The competition is named on honour of Giresh Desai, fondly called 'Bhausaheb' by his colleagues and students. A stalwart of Gujarati theatre he had a long and memorable career as actor and director of Gujarati dramas. When he expired in 2001, he was Director of Programmes of Bharatiya Vidya Bhavan Kala Kendra, Chowpatty, Mumbai. In that position, he had trained scores of theatre aspirants who were students of Bhavan's Drama Academy.
To commemorate his contribution to Gujarati Theatre, his ex-students launched in 2003, the Bhavan's Giresh Desai Bhausaheb Open Hindi One Act Play Competition with the support of Bharatiya Vidya Bhavan.
Bharatiya Vidya Bhavan has been organising theatre activity for young budding artistes since 1951.
The finale if the competition will be held on Saturday, 1st April, from 3 pm.
*Mumbai Theatre Guide takes no responsibility for change in schedule.