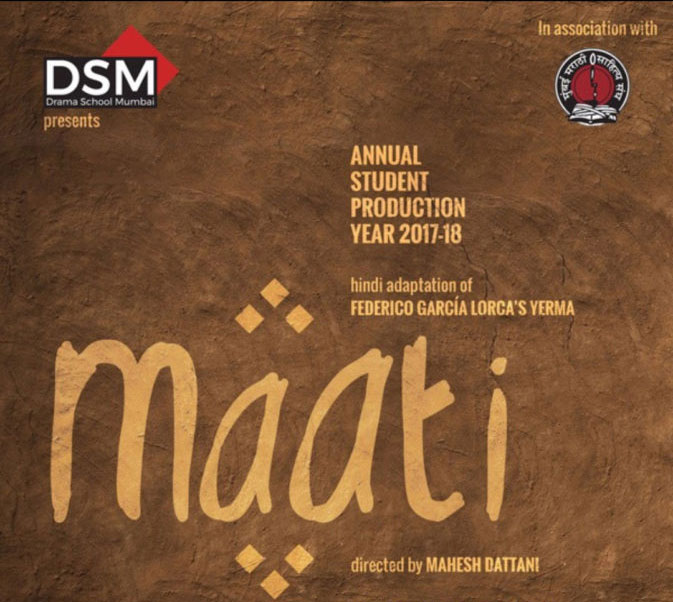 The
Drama School Mumbai (DSM)
will stage its annual student's production on
9th March 2018
at
7 pm
at the school's venue located at
Mumbai Marathi Sahitya Sangh
,
Charni Road East
.
The play opened on
3rd March 2018
.
The production is a Hindi adaptation by
Neha Sharma
of
Fedrico Garcia Lorca's
famous play
YERMA
.
In a world where a woman's value is determined by the capacity for first bearing and then rearing children, what's a barren woman to do? Where does an incessant obsession with fertility, sterility, life and death lead? How far can she bend before she snaps?
This year's annual DSM student production takes a hard look at all these questions through
MAATI.
Some speculate the challenges to Christian morality thrown up by the noted play in 1935 were the most direct cause of Lorca's assassination during the Spanish Civil War.
The contemporary adaptation brings the talent and training of the students under the direction of
Mahesh Dattani
. He is a Sahitya Akademi award winning director, playwright and actor.
Entry Free. First Come First for Ages 16 years and above.MATTI
will travel to other cities as well.
The Schedule:
9th March (Friday) – Drama School Mumbai
13th March (Tuesday) – Rangashankara, Bangalore
15th March (Thursday) – Ninasam Theatre Institute, Heggodu, Karnataka
23rd March (Friday) – Sudarshan Rangmanch, Pune
31st March (Saturday) – Drama School Mumbai
6th April (Friday) – G5A, Mumbai
18th April (Wednesday) – Experimental Theatre, NCPA, Mumbai
4th May (Friday) – Damu Kenkre Festival, Mumbai Marathi Sahitya Sangh, Mumbai
*Mumbai Theatre Guide takes no responsibility for change in schedule.